Why do we interpret the same text differently?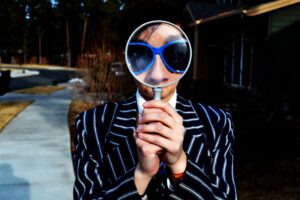 My novel THE ACCIDENT was on a blog tour this month, which means it was reviewed online by a number of book bloggers. Knowing that my lead character Janice is a bit of a Marmite character, I was intrigued to see how the bloggers would react to her.
Bearing in mind everyone was reading the same book, it was interesting to see the range of reactions to Janice's personality and behaviour.
Some saw her as a 'bad' person, deceiving others and manipulating emotions –
'She became absolutely relentless in her search for answers; not only that, she started to become downright deceitful and fabricated the most enormously twisted lies.'
'It was a great read that kept me hooked but the obsession she had over the young woman creeped me out a little and some parts were a little uncomfortable.'
'The main character Janice, and several of the other supporting cast are creepy and their behaviour most definitely strange.'
'Janice's behaviour goes to the extreme ends and she becomes obsessed.'

Others had empathy for her. Acknowledging her background and some of her past experiences, they saw her as 'sad' –
'Our main character is troubled, that has made me feel for her even more.'
'Janice is a character that I felt a deep empathy for, she's a kind woman who's always felt inferior to her mother's high maintenance …Her life was put on hold when her father passed away…'
'I felt sorry for Janice as you learn her story, she is lonely, but she doesn't like big crowds, she is quite a caring person in her own way.'
'I pitied her, while not actually managing to like her.'
'I felt tremendous empathy for Janice. What she does may seem inexplicable to an outsider, but thanks to the intimate insights we gain from her internal dialogue, we relate to her very strongly and wish for a happy ending.'
[Quotes from: @Littlemiss book6, handwrittengirl.com, @jackiesreading, @AngiPlant, rachelReadIt]
And some thought she was completely 'mad':
'I was incredulous about her audacity and the lengths that she was going to to get to the truth but the woman was so bat-sh*t crazy that it made for pretty compelling reading.'
'…obsessed to the point of compulsion, you can't help but be hooked by her madness.'
'The Accident is definitely a page turner which is no mean feat when the main character is slowly becoming more unhinged'
[Quotes from: herreadingroom, @MiriamLSmith3, @TheBroadbean]
One reviewer, libcreads, summed it up: 'I spent most of the book trying to figure out Janice – clearly obsessed, was she evil, bonkers or simply sad and lonely and desperate for a family of her own? Or a bit of all of the above? I was kept guessing and it was this that kept me turning the pages, keen to see what happened next.'


So why do we all interpret what we read so differently? There is a branch of social science called hermeneutics which studies the ways we interpret information. In a nutshell, it comes back to our own character, values and experiences – our inherent biases shaped by our upbringing and our culture. The Janice that I wrote will be interpreted completely differently by each reader. Just as she would if she were a real person, your neighbour or acquaintance – some would like her for her kind heart, some feel sorry for her in her loneliness, and others avoid her obsessive personality. As an author I have to accept that not everyone will see her, or her story, the way I envisioned them. They're on their own now out in the wider world…
My thanks to all the bloggers and to @Tr4cyF3nt0n and Orion Books for organising the blog tour.