They're both ways to experience an element of fear and thrill without risk!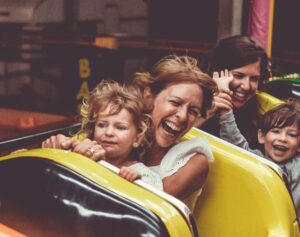 Photo by Chris Slupski on Unsplash
Crime is a wide genre as it encompasses psychological suspense, spy thrillers, police procedurals, amateur detectives, true lcrime and noir. The main elements these subgenres have in common is not the body count, but the ability of the authors to create suspense and mystery. This leads to a level of uncertainty – we're not sure what to expect – and tension increases. Our curiosity is aroused and we to try to predict the outcome. Who will win out, the good guys or their enemies, and at what cost?
At their best, crime novels are truly interactive, like solving a cryptic crossword clue. Readers love being able to spot the red herrings, predict twists and work out 'who dunnit'. We're thrilled with the dopamine hit we have when we get it right (or when we survive the rollercoaster ride!). And we're impressed when the author surprises us with something unpredictable – our brains responding more strongly to the shock of the unexpected.
The characters who stalk the pages of these novels are usually complex, sometimes dark and dangerous. And the most memorable and engaging are often those written by psychologists. I asked five other psychologists who are crime writers how their professional expertise informs what they write. The article appeared in The Psychologist and if you're interested to find out more the interviews can be found here: https://www.bps.org.uk/psychologist/safely-living-darker-side-life
P.S. It's been a busy month! Rosie Sandler, David Evans, Michael Heath and me have toured Essex libraries with our panel event Behind the Covers of Crime. I was also interviewed by Rob Jelly of BBC Essex as part of National Crime Reading Month; ran a workshop for Essex Book Festival; and was Author for the Day for the Global Girls Online Book Club. Phew! It's been great fun and my thanks to everyone involved and all the fabulous writers and readers I've met. 'Til next month.