National Crime Reading month and Essex Book Festival!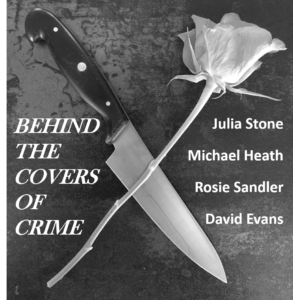 As readers we often latch onto one type of crime novel – police procedural like Ian Rankins' Rebus, cosy crime like Agatha Christie, or thriller/suspense like Gone Girl, The Talented Mr Ripley or Rebecca. National Crime Reading month is an annual event designed to encourage readers to find out more about the range of crime novels and broaden their reading within the genre. Events are happening all around the country and information can be found here.
To help introduce readers to other subgenres of crime, I've got together with three other authors to run an event called Behind the Covers of Crime. We'll be visiting Essex libraries to explore our very different approaches in a series of events through June. If you live in Essex check out your local library for details – posters will be going up soon. Booking information will also be available on Eventbrite in the coming week.
12th June 2023 at 4.30-6.30 entry £2 – Rayleigh
16th June 2023 at 3pm-5pm entry free – Southend Forum
19th June 2023 at 4.30-6.30 entry £2 – Braintree
26th June 2023 at 4.30-6.30 entry £2– Great Parndon
28th June 2023 at 4.30-6.30 entry £2 – Clacton
June's a busy month as I'm also taking part in Essex Book Festival where I'm running a workshop to explain the process of getting your book traditionally published. I'll cover topics like the roles of agents, editors and publishers, and the pros & cons of traditional publishing versus self-publishing. The workshop will be held at Chelmsford Library on Saturday 24th 10.00-11.30am. Tickets are £6 and can be booked here: Essex Writers Day
Hope to see you at one of these events!